Wholesale Mass Dental Putty Impression Material
We can fill various putty impression material specifications and containers you need, customize different specifications, for different purposes of catalytic time, hardness, hydrophilicity, etc. And we can do putty impression material private laebl with low MOQ.
Top Quality Dental Clinical/ Lab Silicone Impression Putty Material /Dental Silicone Putty for Custom Mouth Tray and Night Guard (Perfect Hydroflow for high Precision)
** Top Level Putty Impression Silicone, very high consitency, kneadable
** Soft initial constancy for best mixing results
** Ideal preliminary impressions in the double impression technique and as a tray material in the double-mix technique
** Hormonized consistanies or tray and correction materials, no bubbling or flash
** Time-saving due to short mixing time and time in the mouth (only 2 minutes), neutral tasting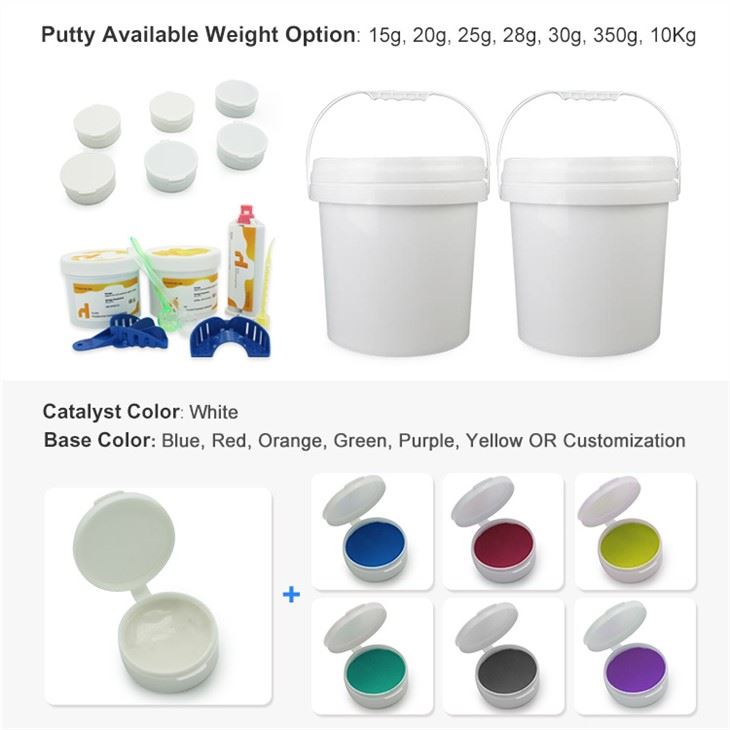 | | |
| --- | --- |
| Type: | 10kg Dental Impression Materials, Impression Materials |
| item name: | Polysilicone Impression Material Putty Dental Impression Material |
| Working Time: | Putty-1 min.Wash-1 min. |
| Consolidation Time: | Putty-<4 min. Wash-5 min. |
| Mixing Time: | 45sec. |
| Max. Compressive Deformation: | <1.0% |
| Recovery of Elasticity: | >99.0% |
| Max. Dimensional Change: | After 24h within 0.3% |
| OEM service: | Private label is ok, free sample available. |
Composition of Dental Impression Putty Material
Vinyl polysiloxane, silica, food class fillings, Pt catalyst.
The product has supreme restoration property, thixotropic property, shape stability, and hydrophilicity, with no offensive smell.
The silicone of addition type has two kinds-putty and wash which are both used clinically with one-step and two-step method impression process.
Putty Impression Material provides all the benefits of a true putty, including higher consistency and insertion force than heavy body materials. Plus, it is designed exclusively for use with
Mixing Unit –enabling reliable and reproducible dosage.
All impression materials get warmer – and therefore set faster –when placed in the mouth. Putty material exits the 2 unit at approximately 97ºF.
Because Putty is already warm when it is seated in the mouth, it helps warm up the wash material, actually accelerating setting time without reducing the intraoral working time.
Putty offers high detail reproduction and the same consistency and insertion force as conventional hand-mix putties. Without the potential for negative interaction between putty and glove.
Dental impression material manufacturers, provide teeth mold impression material wholesale, private label teeth mold kit,OEM customization. Design the packaging carton box for free with private label according to your requirements. CE MSDS 510k approved,cooperation with many big brands.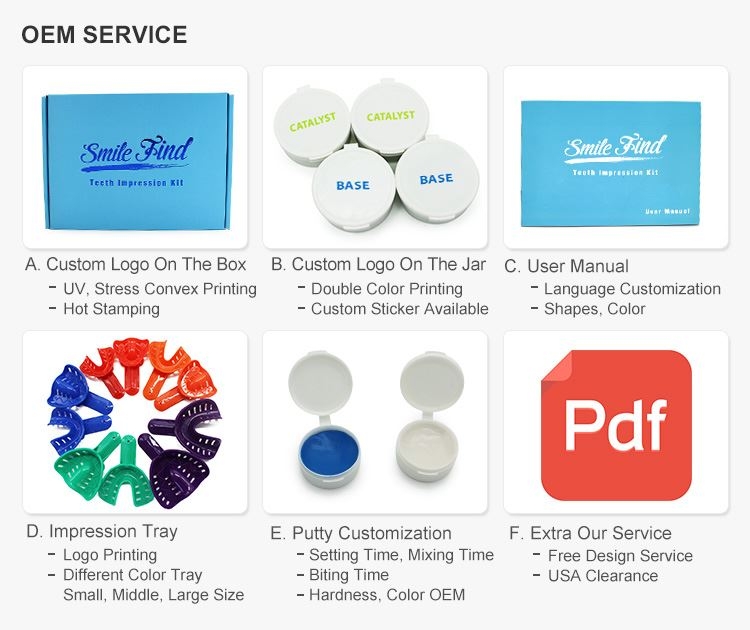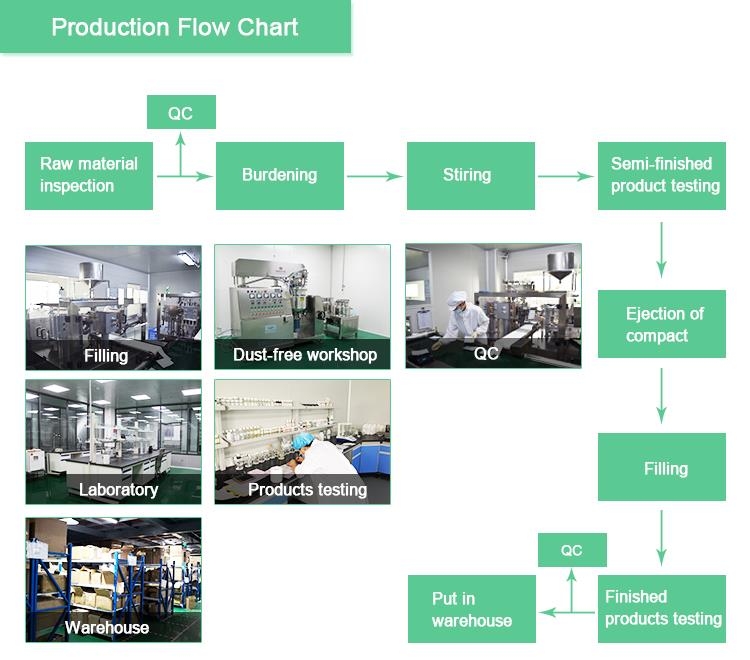 Renseignez-vous maintenant